by Lois Tverberg
You are those who have stood by Me in My trials; and just as My Father has granted Me a kingdom, I grant you that you may eat and drink at My table in My kingdom, and you will sit on thrones judging the twelve tribes of Israel. – Luke 22:28-29
On our recent trip to Israel, we learned much of the latest thinking in archaeology. One picture that changed for us was that of the Last Supper. Many of us already know that DaVinci's picture of the Last Supper is quite far from reality – that the disciples didn't sit in chairs at a long table, eating fish for the Passover meal that required lamb and unleavened bread (See the related director's article). It has been thought that they may have reclined at low seats around a U-shaped table, called a triclinium.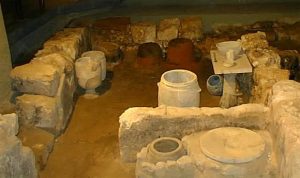 Scholars now suggest that no tables were present at all in the room! Instead, people reclined on the floor, and platters of food were placed on mats in the middle of each group. While platters are found commonly in excavations, tables are rare, and only in the homes of the very wealthy. Also, the word "table" isn't present in the Greek text in the descriptions of Jesus reclining and eating – every time the gospels say that Jesus reclined, the phrase "at the table" is inserted in English where it isn't present in Greek (almost 20 times in the NASB!) Apparently common people ate on the ground, as bedouins and some Africans do even today.
It is very interesting to look at where dining at tables occurs in the Bible. In the Old Testament, it is almost exclusively in royal palaces. David dined at King Saul's table (I Sam. 20:29) and when he was king, he invited Mephibosheth, Saul's grandson to sit at his table (2 Sam. 9:7). A dining table seems to be associated with royalty. It sometimes is a metaphor to mean to have a close relationship with a ruler, as when it speaks of "400 prophets of Asherah who eat at the table of Jezebel" (1 Kings 19:18) Sometimes, however, "table" is used metaphorically – as in Psalm 78:19, when the Israelites say, "Can the Lord prepare a table in the wilderness?" Here it is talking about God providing food for his people, and no physical table is involved at all.
If dining at tables is understood to be an activity of nobility, it sheds light on sayings in the gospels where a table (trapeza, in Greek) is actually mentioned in the Greek text. When Jesus initially refuses to heal the woman's son, the woman says, "But even the dogs feed on the crumbs that fall from their masters' table" (Matt 15:27). It sounds like she is comparing Jesus to a wealthy, royal man with a great feast-laden table, to herself, an insignificant little dog scrounging for a tiny crumb. The contrast makes her saying more powerful.
And now we have a better sense of what Jesus means when he speaks of "my table" in the passage above. He is pointing forward to his royal table in heaven, when he has taken on his full glory. There we will have communion and abundant fellowship with him and each other, dining at the table of the King of Kings.