The Powerful Imagery of Blood
by Lois Tverberg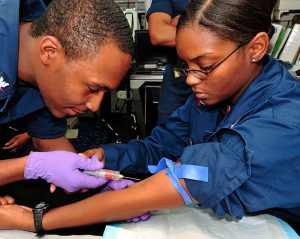 Throughout the Bible there is a recurring image that is mysterious to modern, Western Christians: blood. We like abstract concepts like atonement and salvation, but if we really want to understand these ideas as the Bible explains them, we need to understand its cultural language, which includes the imagery of blood.
The ancient Hebrews thought in concrete ways, expressing abstract ideas in terms of things they could see, touch and smell. In Hebrew, a person is not stubborn, he is "stiff-necked"; God is not slow to anger, he has "long nostrils"; God is not jealous, he is "red-faced."
When God was speaking to them about blood, he spoke to them in this image-based language. Rather than being woodenly literal about what God said about blood, our best way to understand it is to imagine how they saw it, and then translate it into our own language.
Life is in the Blood
The ancient Hebrews believed that the blood of a creature contained its life. They could observe that a person or animal bleeding from a wound will grow faint, and with enough blood loss will die. Because no other damage had to be done than to let the blood run out, it was logical to observers that the life of the animal or person was going out with the blood.1 This has been a common understanding throughout the history of the world, and the sacred awe associated with blood is still held by traditional African cultures even now.2 The Bible reinforces that belief by saying:
For the life of the flesh is in the blood… For as for the life of all flesh, its blood is identified with its life. (Lev. 17:11, 14)
Continue reading here…
---
New Resource!
We're pleased to be able to share this difficult-to-find classic by Brad Young. Check it out!
The Jewish Background to the Lord's Prayer
by Brad H. Young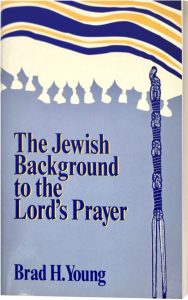 © 1984, Gospel Research Foundation Inc.
Softcover, 46 pages, $7.99
Explore the Jewish roots of the Lord's Prayer
Learn how the Dead Sea Scrolls, rabbinic literature, Jewish prayers, and worship breathe fresh meaning into the revered words of the Lord's Prayer
Understand Jesus' powerful prayer better in the light of Jewish faith and practice
Dr. Brad H. Young (PhD Hebrew University, under David Flusser) is the founder and president of the Gospel Research Foundation in Tulsa, Oklahoma. He is emeritus professor of Biblical Literature in Judaic-Christian Studies in the Graduate School of Theology at Oral Roberts University. Young has taught advanced language and translation courses as well as the Jewish foundations of early Christianity to graduate students for over thirty years.
Check out what else is available from the En-Gedi Resource Center bookstore too…