From the Prayer Series: Amen and Amen
---
New Resource!
We're pleased to be able to share this difficult-to-find classic by Brad Young. Check it out!
The Jewish Background to the Lord's Prayer
by Brad H. Young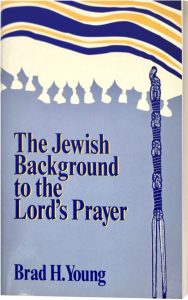 © 1984, Gospel Research Foundation Inc.
Softcover, 46 pages, $7.99
Explore the Jewish roots of the Lord's Prayer
Learn how the Dead Sea Scrolls, rabbinic literature, Jewish prayers, and worship breathe fresh meaning into the revered words of the Lord's Prayer
Understand Jesus' powerful prayer better in the light of Jewish faith and practice
Dr. Brad H. Young (PhD Hebrew University, under David Flusser) is the founder and president of the Gospel Research Foundation in Tulsa, Oklahoma. He is emeritus professor of Biblical Literature in Judaic-Christian Studies in the Graduate School of Theology at Oral Roberts University. Young has taught advanced language and translation courses as well as the Jewish foundations of early Christianity to graduate students for over thirty years.
Check out what else is available from the En-Gedi Resource Center bookstore too…