Featured Article:
Sukkot – Feast of Abundance and Insecurity
by Lois Tverberg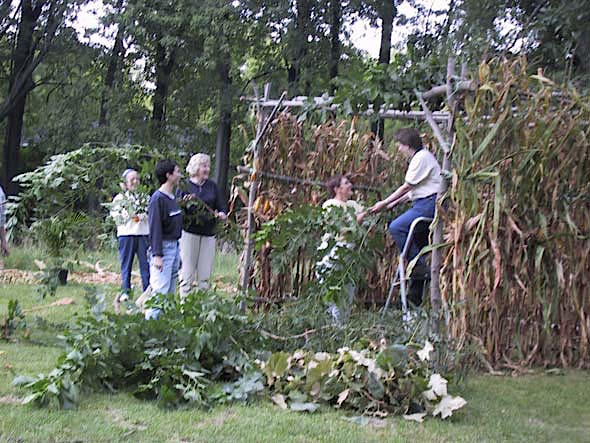 Five days after the Day of Atonement comes the most joyous feast of the year—the Feast of Tabernacles, or Sukkot. Sukkot is the plural of the Hebrew word sukkah, meaning "booth" or "hut." During Jesus' day, huge celebrations were held in the temple, lasting for seven days.
The Feast of Sukkot is also called the "Feast of Ingathering" because it is the greatest harvest feast of the year—when the fruit was brought in and the rest of the wheat was harvested. When the feast was inaugurated, God told his people to build booths and live in them for seven days in order to remember how he had brought them out of Egypt and cared for them in the desert.
To this day, many Jews observe the tradition of building a sukkah. These are supposed to be made from impermanent materials, fashioned so that at least one star is visible through the branches that comprise the roof. The custom is to live in it if possible, or at least to eat your meals in it as if it were your home.
As you sit in one of these rickety little booths, peeking up at the sky through the branches and feeling the wind blowing through the walls, you realize that security comes not from the walls you construct around yourself, but from the Lord who protects you.
You also begin to realize the abundance of God's blessings. The Feast of Sukkot offers a potent experience of what following God is like—feeling both insecure and incredibly blessed at the same time. For Jews, it is a time of great joy as they remember the intimacy of those forty years when God "tabernacled" with them in the desert, sustaining them each day with manna from heaven. READ MORE
We're pleased to be able to share this difficult-to-find classic by Brad Young. Check it out!
The Jewish Background to the Lord's Prayer
by Brad H. Young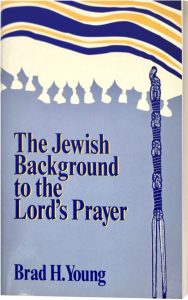 © 1984, Gospel Research Foundation Inc.
Softcover, 46 pages, $8.99
Explore the Jewish roots of the Lord's Prayer
Learn how the Dead Sea Scrolls, rabbinic literature, Jewish prayers, and worship breathe fresh meaning into the revered words of the Lord's Prayer
Understand Jesus' powerful prayer better in the light of Jewish faith and practice
Dr. Brad H. Young (PhD Hebrew University, under David Flusser) is the founder and president of the Gospel Research Foundation in Tulsa, Oklahoma. He is emeritus professor of Biblical Literature in Judaic-Christian Studies in the Graduate School of Theology at Oral Roberts University. Young has taught advanced language and translation courses as well as the Jewish foundations of early Christianity to graduate students for over thirty years.
Check out what else is available from the En-Gedi Resource Center bookstore too…