Hebrew is God's heart language—the mother tongue of the Scriptures Jesus read. Hebrew is also an extremely rich, poetic language that looks at the world in very different ways than English. What it says in English is an inexact representation of its meaning in its original language.
Some ideas simply don't travel well across languages and time. In order to taste the true breadth of expression of the Bible's ancient words, you have to travel back mentally to their original Middle Eastern setting. If we want to hear the Bible for what it really is saying, we need to get a sense for its idioms and thought patterns.
We can gain rich insights into scripture by focusing on the Hebrew words of the Bible and examining their multi-faceted expressions. Sometimes this can help us avoid misunderstandings, when we see that even though a word has been translated into English, there may be a different picture behind it than what we have.
The Old Testament was written in Hebrew, and even though the New Testament was written in Greek, it was written almost entirely by Jews growing up in a Hebrew-speaking, Semitic-thinking culture. Having a sense for the Hebrew language is therefore very important for understanding the Bible, and gives us clues on the thinking patterns of its writers. Besides making the Bible clearer, hearing its words as they were originally meant is a tremendously enriching experience, giving us wonderful new insights into God's word.
What can we learn?
.

Brief Articles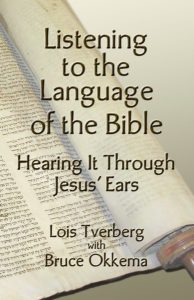 For a collection of short essays on the meaning of Hebrew words, see Listening to the Language of the Bible, En-Gedi Resource Center, 2015. This is a guide for discovering the richness of the Scriptures in their Hebraic setting.
Longer Essays
Listening Through Jesus' Ears – The Bible often speaks in odd-sounding, poetic phrases that come from its Hebraic culture. Hearing its words as they were originally meant gives us new insights into God's word.
Does God Forget Sins? – Understanding the biblical ideas of "remembering" and "forgetting" helps us understand about forgiveness of sin.
Does God Want Us To Fear Him? – An explanation of how the difficult phrase "fear of the Lord" in the Bible can be very rich in our lives.
What's the Good News? – Some kinds of news have the power to change our lives overnight — the birth of a baby, the diagnosis of cancer. … An excerpt from our book, Listening to the Language of the Bible
The Hebrew Concept of Wisdom – The Hebrew word hokmah is used to describe both wisdom and skilled labor.
In the Name of the Lord – "In the name of" is a Hebraic figure of speech that has been misunderstood by many Christians, sometimes leading to errors in thought and practice.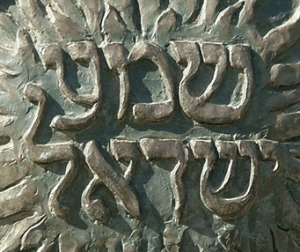 Links for Further Study:
If you're truly inspired to keep learning Hebrew, you should consider taking a course from the Biblical Language Center. Their innovative program is unique and extremely effective.
(Photo: Evgeni Zotov, Rabanus Flavus)