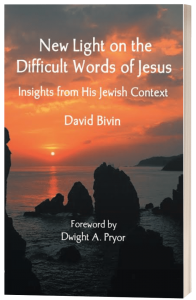 by David Bivin
© 2006, En-Gedi Resource Center
Softcover, 208 pages, $13.99
Download a sample chapter (pdf)
David Bivin is the founder and editor of Jerusalem Perspective, a journal that explores the Jewish context of the Gospels. He has traveled and lectured internationally for more than 25 years, and is the author of hundreds of articles on that subject.
New Light on the Difficult Words of Jesus is a collection of some of his best writing on the Jewishness of Jesus, edited for the general reader. The book examines Jesus' lifestyle as a first-century Jewish rabbi, and looks at how his words would have been understood within the larger framework of first-century Judaism. Many scholarly footnotes make it a valuable help to those who want to study in depth.
"In Jerusalem, David Bivin has interacted for decades with some of the best Jewish scholarship in the world. This book displays many of the brilliant Hebraic gems the author has mined that help illuminate the pages of the Gospels. Clearly written and very readable, Bivin shows why Christians need rabbinic sources if they intend to know and understand Jesus in his first-century Jewish setting. New Light on the Difficult Words of Jesus is a valuable resource for every serious student of Scripture."
— Marvin Wilson, Author of Our Father Abraham: The Jewish Roots of the Christian Faith
Order New Light on the Difficult Words of Jesus ($13.99).