by Lois Tverberg
How beautiful on the mountains are the feet of those who bring good news, who proclaim peace, who bring good tidings, who proclaim salvation, who say to Zion, "Your God reigns!" (Isaiah 52:7)
Some kinds of news have the power to change our lives overnight — the birth of a baby, the diagnosis of cancer, the closing of a factory. The news of the end of a war or toppling of an evil government can mean new life for millions. We remember with great joy the end of World War II, the fall of the Berlin Wall, and even the toppling of the statue of Saddam Hussein. People who had lived in fear of torture and murder for decades said that they felt like they had been "reborn." It was as if a nightmare was suddenly over and a new day had come.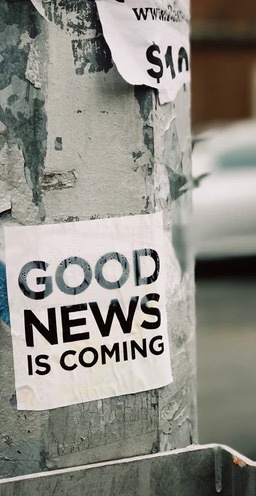 Interestingly, the Hebrew word besorah, which we translate to "good news," has exactly that connotation. It is news of national importance: a victory in war, or the rise of a powerful new king. The word was used in relation to the end of the exile (Isaiah 52:7) and the coming of the messianic King (Isaiah 60:1). Often it is news that means enormous life change for the hearer.
In Greek, there is an equivalent word, euaggelion, which we also translate as "good news, glad tidings, or gospel." It also describes historic news of national importance. One place where this term is used is in the story of the angels who bring the news about the birth of Christ:
But the angel said to them, "Do not be afraid. I bring you good news of great joy that will be for all the people. Today in the town of David a Savior has been born to you; he is Christ the Lord. (Luke 2:10-11)
This announcement has a fascinating context. In Jesus' time, there was a yearly announcement of the birthday of Caesar as "the euaggelion to the whole world." The Roman Empire considered it great news to remind people of the ascendancy of this king and his reign over the known world. In the light of this, we see that the angels were doing the same thing, but in a much greater way — making an official proclamation to the all the nations about the birth of the true King of Kings, and the arrival of a new kingdom on earth.
When we learn that the word "evangelize" comes from euaggelizo (related to euaggelion), we can see the true power of the "good news" of the coming of Christ. Victory has been won in the war against Satan; and Christ, the true King, has come into power. This new King has come to extend an invitation to enter his kingdom and live under his reign. Like any regime change, the word "good" is far too bland to express the impact of this news that brings eternal life to its hearers. May the news of this King spread everywhere on earth!
~~~~
This article is an excerpt from Listening to the Language of the Bible, available in the En-Gedi bookstore.