by Lois Tverberg
Abram believed the LORD, and he credited it to him as righteousness. (Genesis 15:6)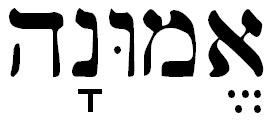 One of the most quoted verses about Abraham is Genesis 15:6: "Abram believed the LORD, and he credited it to him as righteousness." This is a key verse in the discussion about being saved by faith apart from works, the central point of the Reformation. It was Abram's "believing" that gave him righteousness in God's sight. Protestants have emphasized the importance of believing God's promises, instead of working to earn our salvation.
But it is important to understand that the key word, emunah, that we translate "believe" has a different emphasis in Hebrew than we tend to hear. In English and Greek (pistis), its primary meaning is to assent to a factual statement, to agree with the truth of certain ideas.
The word emunah does mean to have faith, but it has a broader meaning that has implications for what God calls us to as people of faith. It contains the idea of steadfastness or persistence. In Exodus 17 Moses raised his hands all day long until the Israelites won a key battle. It says that his hands remained steady, emunah, until sunset. In this sense it means steadfast. God is also described using the word emunah in Deuteronomy 7:9:
"Know therefore that the LORD your God is God; he is the faithful (emunah) God, keeping his covenant of love to a thousand generations of those who love him and keep his commands. "
If we look back at the verse about Abraham's emunah, it should tell us that Abraham believed God's promises and had a persistent commitment to God which showed in his faithful life. He waited 25 years for a son, and offered him back to God when he was asked.
This has implications about what it means to be a Christian. I used to wonder why God saved certain people just because they decided to adopt one particular set of beliefs over another. But as James pointed out, Satan himself believes that Jesus died for the sins of the world and that he is God in the flesh, and just knowing that doesn't redeem him!
But while Satan may have the right beliefs, he cannot say that he has emunah: a committed faithfulness to the Lord. What God asks for goes beyond an academic decision to believe that a certain set of facts are true. He wants faith in his promises that results in a steadfast faithfulness to him.
~~~~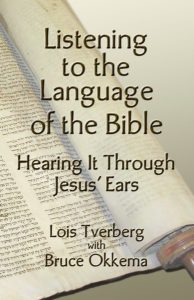 Further reading:
See Listening to the Language of the Bible, by Lois Tverberg and Bruce Okkema, En-Gedi Resource Center, 2004. This is a collection of devotional essays that mediate on the meaning of biblical words and phrases in their original setting.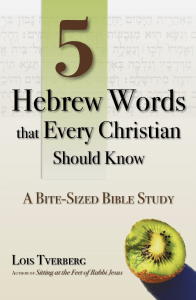 For a friendly, bite-sized Bible study of five flavorful Hebrew words, see 5 Hebrew Words that Every Christian Should Know, by Lois Tverberg, OurRabbiJesus.com, 2014 (ebook).