by Lois Tverberg
"And it came about when they were in the field, that Cain rose up against Abel his brother and killed him. Then the LORD said to Cain, "Where is Abel your brother?" And he said, "I do not know. Am I my brother's keeper?" Gen. 4:8-9
When we read this story, it isn't clear to us why God chooses to accept Abel's sacrifice over Cain's. The text says that Abel brought some of the fat portions of the first born animals of his flock, and to an ancient Israelite, that would have meant the absolute best of the absolute most precious animals that he had.
Cain brought some of the produce of his field, but no mention is made of it being the first or best, suggesting that Abel offered his sacrifice with enthusiasm, but Cain offered it out of a sense of social obligation, with an eye toward what he would get in return, in comparison to his brother. It appears that God knew their hearts and responded accordingly, but in Cain's eyes, it looked as if God had arbitrarily favored his brother over himself. God chooses whom he will bless, and sometimes that is a mystery to us. We sometime see God's kindness toward others as favoritism and it makes us angry.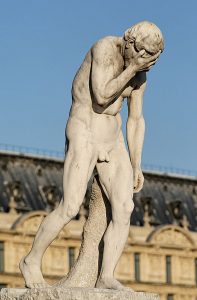 This story has a great irony, however, because in punishment, God's grace extends to Cain too. Cain has taken his brother's life and certainly merits death for his actions. But not only does God spare Cain from the fate that he gave his brother, he promises to protect Cain from harm and repay anyone who tries to harm him. God is being amazingly merciful to a man who was forewarned about the evil that he was about to do, does it anyway, and then brazenly answers God's question about his brother with, "Why should I care?"
The irony is that Abel appears to merit God's favor, but because Cain had the slightest doubt of God's choice of favoring him, he is angered. But Cain, who has no merit of all, receives even greater grace from God. How unfathomable is God's kindness!
We should learn that while we all can compare how God has blessed others in comparison to ourselves, to do so only leads to jealousy and hatred. God sometimes chooses and we can't see why. But we also know that God's choosing extends to the most unworthy, and extends even to the one who merits least of all, which is often ourselves.
---
Photocred: Jastrow