by Lois Tverberg
"A farmer went out to sow his seed. As he was scattering the seed, some fell along the path, and the birds came and ate it up. Some fell on rocky places, where it did not have much soil. It sprang up quickly, because the soil was shallow. But when the sun came up, the plants were scorched, and they withered because they had no root. Other seed fell among thorns, which grew up and choked the plants. Still other seed fell on good soil, where it produced a crop — a hundred, sixty or thirty times what was sown."
Matthew 13:3-8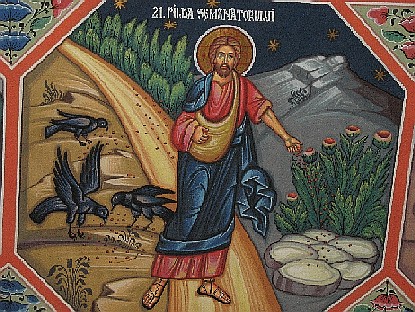 To explain how people would receive Jesus' message, he told a parable about four types of soils, representing four kinds of responses to his ministry. Interestingly, Jesus was using a classic rabbinic teaching method — the "Four Types" parable, that presented four possible behaviors and their results. Other rabbis of Jesus' day also used parables of this style, as the following example illustrates:
There are four types among those who sit in the presence of the rabbis: the sponge, the funnel, the strainer, and the sieve. "The sponge," which soaks up everything. "The funnel," which takes in at this end and lets out at the other. "The strainer," which lets out the wine and retains the dregs. "The sieve," which lets the dirt fall through and retains the grain. (Pirke Avot, 5:17)
It is interesting to see how this saying parallels that of Jesus. It is also talking about people who listen to a rabbi, and it is also describing how they remember and respond to his teachings. Our initial reaction may be to think that it is best to be like the sponge which retains everything, and the worst to be the funnel, that loses everything. But the other two options give us more insight. The wine strainer is even worse than the funnel, because it lets the good wine go right through, but retains the waste. The grain sieve is the best model for us, because it retains the good grain and removes the dust and dirt that aren't wanted.
This parable is a good lesson for us as we learn from pastors and spiritual leaders. With the exception of Christ, all our teachers will have some "dross" in with the silver, which means we must listen with discernment. We might be tempted to find a charismatic leader or authoritative author and become a "parrot" who repeats everything uncritically. Or even worse, we may be so interested in a few odd, debatable points that we miss the good ideas that a teacher has shared. If we want to truly grow in wisdom, we need to be like the Bereans,1 who held up all teaching to the scriptures for soundness. We then need to subject every doctrine to the mind of Christ, to make sure it reflects his loving, gracious heart.
---
(1) "Now the Bereans were of more noble character than the Thessalonians, for they received the message with great eagerness and examined the Scriptures every day to see if what Paul said was true." Acts 17:11
Photos: Public Domain; Walters Art Museum / Public domain