by Lois Tverberg
Moses took the bones of Joseph with him because Joseph had made the sons of Israel swear an oath. He had said, "God will surely come to your aid, and then you must carry my bones up with you from this place." – Exodus 13:15
The Bible shares a detail about the Israelites made their great departure of Egypt that we might see as minor – that Moses brought the bones of Joseph along with them. In Genesis it is recorded that Joseph knew that God would take his family out of Egypt and asked to be taken with them:
Joseph said to his brothers, "I am about to die, but God will surely take care of you and bring you up from this land to the land which He promised on oath to Abraham, to Isaac and to Jacob." Then Joseph made the sons of Israel swear, saying, "God will surely take care of you, and you shall carry my bones up from here." So Joseph died at the age of one hundred and ten years; and he was embalmed and placed in a coffin in Egypt. – Gen. 50:24-26
To us it might seem minor, but this detail adds a remarkable amount of continuity and closure to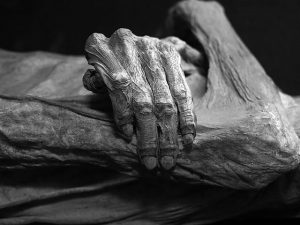 the greater story of Joseph and the family of Israel in Egypt. Joseph was the first of the family to go
down into Egypt, and he was exiled there by his own brothers' hatred. Now, just as his own family sent him down there, his family would need to carry him back out again. Or another way of looking at it is that Joseph had brought his whole family down to Egypt to rescue them from famine, and once again he would be with them when God rescued them from oppression.
In his early years, Joseph had dreamed of being a ruler, but this was the reason his brothers hated him and sent him into bondage. In spite of years of prison and dashed hopes in his own dreams, in faith he interpreted the Pharaoh's and his servants' visions, and his accurate interpretation was why Pharaoh set him free. At the end of Joseph's life, he had one last "dream" – that God would bring his whole family out of Egypt and into the land he ultimately promised, and God fulfilled that one too.
In a sense, once Joseph was sold into bondage, that was the very beginning of the captivity of the family of Israel, because for the next 400 years, at least one of their family was not free to live in the land God gave them. Joseph was allowed to bury his father in Israel, but had to return to Egypt to be buried, showing his (temporary) loss of claim on God's promise. (See "Enslaving Themselves.") But when God did come to rescue Israel and they took even Joseph's bones, it showed that not one person who had waited faithfully on the Lord was left behind when God came to rescue his people.
---
Photo: Tomas Castelazo