by Lois Tverberg
Now it came about after these things, that God tested Abraham, and said to him, "Abraham!" And he said, "Here I am." He said, "Take now your son, your only son, whom you love, Isaac, and go to the land of Moriah, and offer him there as a burnt offering on one of the mountains of which I will tell you. – Genesis 22:1-2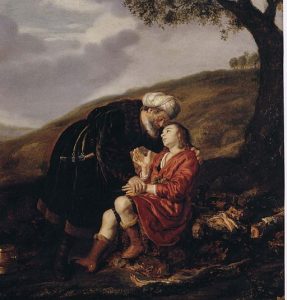 It seems strange that God would ask Abraham to sacrifice his son, the very son that God had promised would be the one who would father a great nation. It's odd that God would use His answer to prayer as the basis for a test. I think though, that God gave this test because He knows human nature.
When we come to God in prayer with a request, we can be utterly sincere about asking for a good thing that seems to be in accordance with God's purposes. It may be a better job, having an opportunity in business, finding a spouse, or even that someone would be saved. People may spend years in sincere prayer, as Abraham did, and God is pleased by our persistent faith in His willingness to help us.
Sometimes, however, the request can become all-consuming to our prayers, until it becomes the thing by which God is measured in our eyes. When the goal seems impossible, our belief in God's goodness may decline, and we may even get angry with Him. No matter how good a request seems to us, when anything becomes so important that God cannot say "no", it is an idol. It has taken God's place as ruler of our lives, and prayer is just a means to get God to serve our own ends.
We know we are that point when we use means that God hasn't approved to reach our prayer goal. It looks like that was where Abraham and Sarah were at when Sarah brought Hagar to Abraham, so that they could "help" God fulfill His promise. God pledged to bless even their actions in weakness, but He didn't allow their actions to be the fulfillment of His plan.
Even after God had given them Isaac, it was a possibility that their faith in God was really a faith in His ability to give them a family, something enormously important to them. In order to prove that this wasn't true, God put his finger right on the thing that may have been more important to them than Himself. It was when Abraham finally showed that His faith was unwavering in God, even to the point of taking away the blessing that He had given before, that God was free to pour out all His blessings on them.