by Pastor Ed Visser
And there were shepherds living out in the fields nearby, keeping watch over the flocks at night. An angel of the Lord appeared to them … "Today in the town of David a Savior has been born to you; he is Christ the Lord."
Luke 2:8-11
One of the places I was able to visit while in Israel was the "little town of Bethlehem." I say this with gratitude because, despite all the peaceful scenes of Bethlehem on our Christmas cards, today it is often a place of strife, off limits to tourists.
Bethlehem is found in the central hill country of Israel, surprisingly close to Jerusalem. It is also on the border between the farm belt and the wilderness — literally right across the road from each other — so farmers like Boaz and shepherds like David coexisted here (a little more peacefully than Palestinians and Israelis!). One sign of that is especially apparent in the fall: for the only time all year, sheep are allowed to graze in farmers' fields. It proves a symbiotic relationship: sheep, normally confined to desert grazing, get the crop leftovers but also leave behind fertilizer for the upcoming growing season.
This phenomenon, which occurs only in "frontier" towns, may explain the wording of Luke 2:8 that the shepherds were "in the fields" nearby Bethlehem. If so, it dates Jesus' birth to sometime in the summer or fall (perhaps in conjunction with the Feast of Sukkot?). But the fact that these sheep were in the Bethlehem area also suggests another insight: that they were Temple flocks being raised for sacrifice. The Mishnah tells us that only sheep from the flocks of Bethlehem were to be used for this purpose. Is this an additional pointer toward Jesus, the sacrificial lamb of God?
Another feature of the area is the Herodian fortress-palace, which actually casts a shadow over the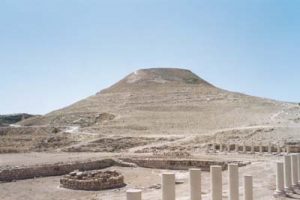 town of Bethlehem in the early morning. From the top, one can see not only Bethlehem but even Jerusalem to the west, as well as a good view of the wilderness to the east. Every person in the Christmas story — whether Mary & Joseph, the shepherds, the Magi, Simeon & Anna — would have to "buy into" the idea that this poor child was the true King of the world, when King Herod's presence was so obvious and ominous nearby.
It certainly took a lot of faith to be part of that first Christmas story set in Bethlehem. But it takes no less faith today — when so many other "kings" vie for our attention, when evil sometimes seems enthroned — to cast our lot with that unblemished Lamb born in Bethlehem to be the sacrifice to atone for our sins. Have you cast your lot for him?