by Pastor Ed Visser
Jesus: "Who do you say I am?" Peter: "You are the Christ, the Son of the living God."
Jesus: "…on this rock I will build my church, and the gates of Hades will not overcome it." Matthew 16:15-18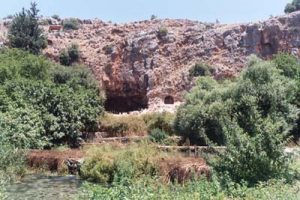 Not long before Jesus went to the cross, he gathered his disciples in Caesarea Philippi, an area known for its worship of the pagan god Pan. At an outdoor theater, created in front of a large rock, with a cave they thought entered the underworld (Hades), people worshiped Pan in orgiastic fervor.
"What are we doing here?" Jesus' disciples must have wondered. But he had an important question for them. In the face of all this blatant paganness, which seemed so strong in their culture, who would they confess that Jesus was? Peter's response, revealing Jesus as Messiah and God, was stunning, if only for the setting. And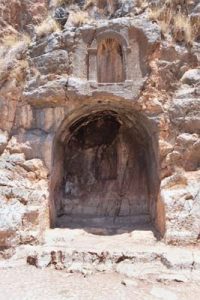 Jesus' response also fit the setting. Perhaps gesturing to this rock and cave, he said he would build his church even here, in the midst of pagan culture, and that the "gates of Hades" (the name of this cave, but also denoting Satan's realm) would not overcome his church.
To understand the impact of this setting on his message: if Jesus were to do this today he might very well take his disciples to Hollywood or Las Vegas or a porn theater in Times Square, and tell his disciples that his church was going to be built there, and Satan's smut would not overcome it. That remains a strong message to the church today about our need to impact our culture.
If that was a little intimidating for those disciples, Jesus' next stop was just north of this rock, to a much bigger one: Mount Hermon, the highest mountain in Israel. There, before his three most intimate disciples, Jesus was transfigured into his glorified body. Moses & Elijah showed up, representing the Old Testament (Law & Prophets) and talking about Jesus' atoning death. And God the Father himself declared (as he had done at Jesus' baptism) that Jesus was indeed his Son and Messiah.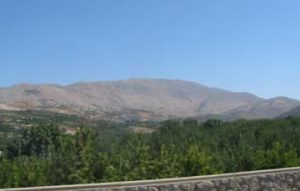 From this amazing illustration of Jesus in all his heavenly power and glory, it would be all downhill from here — figuratively and literally! The next stop was Jerusalem and the cross, which the disciples could now face, armed with a confession and an image of a glorious Lord!