by Lois Tverberg
"Then they will rebuild the ancient ruins, they will raise up the former devastations;
and they will repair the ruined cities, the desolations of many generations."
Isaiah 61:4
The first impression that I had after arriving in Israel, when we were traveling from the Tel Aviv airport toward Jerusalem, was the enormous amount of development that has occured in the three years since we last visited. Hills that were bare before are now full of houses. We saw it even in the West Bank, around Bethlehem, where many more villages and farms had established by the Palestinians. Considering how difficult the economy has been with the lack of tourism, it is surprising that people have been able to expand and develop as much they have.
I have to admit that my initial reaction to the new apartments and houses outside of Jerusalem was a sense of disappointment that the land is being covered in bricks and mortar.
But as I thought about it, I wondered if God might have a different reaction. The city of Jerusalem is where God's temple once stood, and Jesus mourned the fact that God would let the city be destroyed. In the Messianic era, when God would restore things to the way they should be, God promised that the ancient ruins would be rebuilt, as it says in today's verse. We should take joy in God's faithfulness that he is fulfilling his promise and rebuilding his land, as he said he would long ago.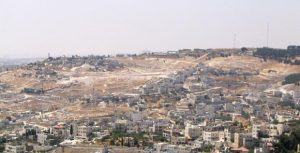 As much as I like grass and trees, and fancy that the Holy Land should be an unspoiled garden, I think that God may not share that sentiment. We can see God's intentions by comparing the beginning of the Bible with its end. Originally, Eden is a paradise that had only two human beings in it. But in Revelation, when we again read about paradise, it has one big difference – it is a great city, thronging with people, where God dwells among them. It reminds us that God's greatest glory will be when his children from every tribe and nation all come to live with him forever.
And I heard a loud voice from the throne, saying, "Behold, the tabernacle of God is among men, and He will dwell among them, and they shall be His people, and God Himself will be among them, and He will wipe away every tear from their eyes; and there will no longer be any death; there will no longer be any mourning, or crying, or pain; the first things have passed away." And He who sits on the throne said, "Behold, I am making all things new."

… Then one of the seven angels who had the seven bowls full of the seven last plagues came and spoke with me, saying, "Come here, I will show you the bride, the wife of the Lamb." And he carried me away in the Spirit to a great and high mountain, and showed me the holy city, Jerusalem, coming down out of heaven from God, having the glory of God. (Revelation 21:3-5, 9-10)