by Lois Tverberg
The LORD, the LORD, the compassionate and gracious God, slow to anger, abounding in love and faithfulness, maintaining love to thousands, and forgiving wickedness, rebellion and sin. – Exodus 34:6-7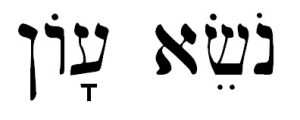 The verse above is God's own revelation about Himself, when he passed by Moses on Mt. Sinai and showed him his glory. It was God's answer to Moses' request: "And now, if I have found favor in your sight, show me your way, that I may know you, that I may continue to find favor in your sight!" (Exodus 32:13). This phrase is called by Jews the "Thirteen Attributes of God," counting thirteen ways God's mercy is described. This is a very important text about God, quoted eight other times in the Bible and often used as part of Jewish liturgy.
An interesting thing in Hebrew in this passage is that the words that describe God's "forgiving wickedness" are literally "to lift or carry guilt," and in fact, many other places is actually translated as "bear iniquity" or "to bear guilt." The same phrase noseh avon is used in many passages, including the following:
[The sin offering] is most holy, and He gave it to you to bear the guilt of the congregation, to make atonement for them before the LORD. (Leviticus 10:17)

The goat shall bear their iniquities to a solitary land; and he shall release the goat in the wilderness. (Leviticus 16:22)
Interestingly, the same phrase that is applied to God in terms of forgiving sins is also applied to the atonement sacrifices which bore the sins of the people. There is another word for forgiving sin, selach, that could have been used, but bearing guilt is what God speaks of here. It sounds as if God's answer to Moses' request that he "show him his way" is to say that he would bear his people's guilt!
In the light of this, one more place where noseh avon is used is very significant in relation to the suffering of the Christ — Isaiah's prophecy of God's servant who would redeem Israel by paying for their sins:
Yet it was the LORD's will to crush him and cause him to suffer, and though the LORD makes his life a guilt offering, he will see his offspring and prolong his days, and the will of the LORD will prosper in his hand. After the suffering of his soul, he will see the light of life and be satisfied; by his knowledge my righteous servant will justify many, and he will bear their iniquities. (Isaiah 53:10-11)
It appears that when Moses asked the Lord to reveal his glory and to show him his plan, that the Lord answered by hinting even then of his future plans. Already he had determined that he himself would bear our wickedness, transgression and sin.
~~~~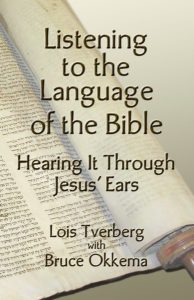 Further reading:
See Listening to the Language of the Bible, by Lois Tverberg and Bruce Okkema, En-Gedi Resource Center, 2004. This is a collection of devotional essays that mediate on the meaning of biblical words and phrases in their original setting.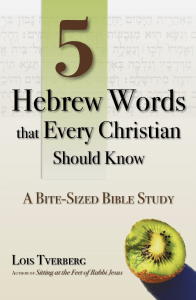 For a friendly, bite-sized Bible study of five flavorful Hebrew words, see 5 Hebrew Words that Every Christian Should Know, by Lois Tverberg, OurRabbiJesus.com, 2014 (ebook).