by Lois Tverberg
"Two men went up into the temple to pray, one a Pharisee and the other a tax collector. The Pharisee stood and was praying this to himself: `God, I thank You that I am not like other people: swindlers, unjust, adulterers, or even like this tax collector.`I fast twice a week; I pay tithes of all that I get.' But the tax collector, standing some distance away, was even unwilling to lift up his eyes to heaven, but was beating his breast, saying, `God, be merciful to me, the sinner!' I tell you, this man went to his house justified rather than the other; for everyone who exalts himself will be humbled, but he who humbles himself will be exalted." – Luke 18:10 – 14
We usually don't get the full impact of this parable because of our assumption that Pharisees were all hypocritical and judgmental. The parable just reinforces our negative bias, and it loses its impact because the conclusion seems to be self-evident: God dislikes pride, and the Pharisees were the most prideful.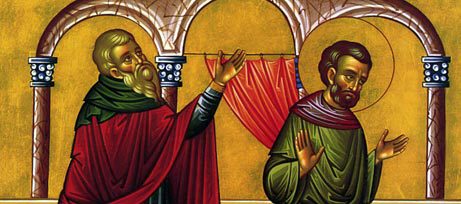 To hear this story more authentically, we need to understand the many positive qualities of the Pharisee movement. Most of the greatest rabbis of Jesus' day were Pharisees, and their teachings were similar to his in many ways. They had nearly the same words of self-criticism as Jesus had for those who fell into hypocrisy and legalism. Several joined Jesus' movement, including Nicodemus and Joseph of Arimethea, and the famous Pharisee Gamaliel actually argued for the release of the apostles, saving the early church from destruction (Acts 5:34-39)!
Even when they argued with Jesus, this was typical of the confrontational debate that rabbis used. We should see them as well-respected, learned men who occasionally fell into the errors that Jesus critiques.The parable above takes on new meaning if we see the Pharisee as a favorite pastor of ours, someone who is an admired teacher who really does go the extra mile to be an example to others with his lifestyle and attitude. Then we see the true irony – that even the best of people should not come to the Lord with a sense of self-satisfaction and comparison to others. If we miss that point, we can actually fall into the same trap that this man fell, by taking pride in the comparison of us to him, with the conclusion, "God, I thank you I am not like that Pharisee!"
We all stand in need of God's forgiveness, even the best of us, and we should always be on the look out for when our prayers are more concerned with other's sins than our own in God's sight.
---
*This essay was based on the chapter, "The Pharisee and the Tax Collector", p. 181-194 of
Jesus the Jewish Theologian, by Brad Young, Hendrikson Publishing, 1995.