by Mary Okkema
Bless the LORD, O my soul, And all that is within me, bless His holy name. Bless the LORD, O my soul, and forget none of His benefits; Psalms 103:1-2
When life is a challenge and we don't know how to pray we can turn to the Psalms for the words that fail us. You can start by reminding yourself who God is and think about His wonderful attributes.
Drink in these words from Psalms 103:
In the opening verses, we are reminded of the many ways we benefit by His presence everyday: "Praise the LORD, O my soul, and forget not all his benefits".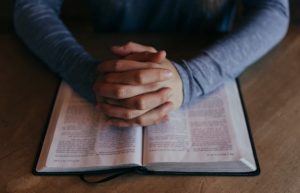 What is it that you need today? Are you feeling like you need forgiveness before you start the day? … "who forgives all your sins" … or maybe you are encountering an illness because of unconfessed sin, "and heals all your diseases." ("When I kept silent, my bones wasted away through my groaning all day long." Psalms 32:3)
Perhaps you have been dealing with depression, "who redeems your life from the pit and crowns you with love and compassion," Do you need some encouragement? Verse 5 says, "who satisfies your desires with good things so that your youth is renewed like the eagle's."
Having compassion for others is a challenge we often face as well. We can learn from the example in verse 13:"As a father has compassion on his children, so the LORD has compassion on those who fear him".
The words of verse 19 remind us who is in charge, "The LORD has established his throne in heaven, and his kingdom rules over all."
So even when we don't know how to pray, we find that by turning to the Psalms, we can be guided, encouraged, and blessed by the words of those who have gone before us. Can we help but join with them and all creation by saying:
Praise the LORD, you his angels, you mighty ones who do his bidding, who obey his word. Praise the LORD, all his heavenly hosts, you his servants who do his will. Praise the LORD, all his works everywhere in his dominion. Praise the LORD, O my soul.
Indeed, how great is His love! "For as high as the heavens are above the earth, so great is his love for those who fear him!" Blessed be the Name of the Lord!
Photo by Patrick Fore on Unsplash