by Lois Tverberg
Let us rejoice and be glad and give the glory to Him, for the marriage of the Lamb has come and His bride has made herself ready. It was given to her to clothe herself in fine linen, bright and clean; for the fine linen is the righteous acts of the saints. Then he said to me, "Write,`Blessed are those who are invited to the marriage supper of the Lamb.'" Revelation 19:7-9
Certainly there are many puzzling images in the book of Revelation. One that seems striking is the marriage of the Bride and the Lamb. Where is this image coming from?
It appears to come from an ancient understanding of a redeemer, and how that describes Christ's relationship to his church. A redeemer was a relative who would "buy" a person or property that had been sold, usually because of debt. If a person became enslaved because of debt, the redeemer would "purchase" the person to obtain their freedom. As a result, the redeemer would "own" the person, but as a close family member, not as a slave. An example of this is when Boaz acted as kinsman-redeemer for Ruth. It says he "bought" her and she became his wife (Ruth 4:5, 13). God was using this image when he said to Israel,
`I am the LORD, and I will bring you out from under the burdens of the Egyptians… I will also redeem you with an outstretched arm and with great judgments. `Then I will take you for My people, and I will be your God. " (Exodus 6:6–7)
God was saying that he would be their redeemer and take them as his people, as a man takes a woman as his wife, as Boaz did for Ruth. God did not just want to release to them from slavery, but he wanted an intimate relationship with this people, like that of a husband and wife. He redeemed them out of love for them and wanted them to be close to him forever. Often the Scriptures speak of God as the husband/redeemer of Israel:
For your husband is your Maker, Whose name is the LORD of hosts; And your Redeemer is the Holy One of Israel, Who is called the God of all the earth. (Isaiah 54:5)
Christ, who was our redeemer from sin, also "purchased us" as his people with his blood that was shed on the cross. As Peter says,
It was not with perishable things such as silver or gold that you were redeemed from the empty way of life handed down to you from your forefathers, but with the precious blood of Christ, a lamb without blemish or defect. (1 Peter 1:18 – 19)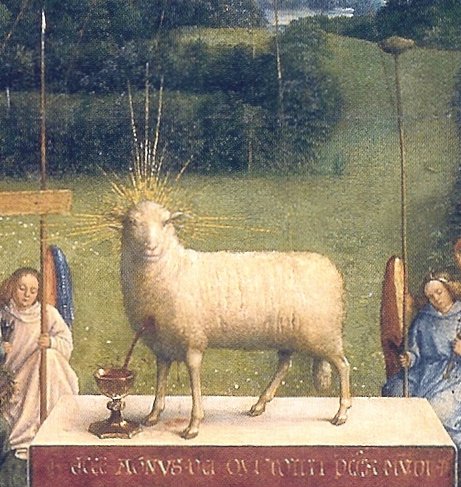 Peter points out that Jesus was the true lamb of Passover. The lamb's blood protected the Israelites in Egypt and led to their redemption from slavery. In the same way, Jesus' blood redeemed us from our debt of sin, and the death we deserve because of it. Through his death, Christ "bought" us as his people, but not just to set us free. Instead, like a husband taking a wife, he redeemed us out of his great love, so that we could have an intimate relationship with him. The scene in Revelation is the vision of the Lamb, Christ who had died and rose again, finally taking the bride, the people he loved, as his own to live together forever.
---
Photo: DaviPeixoto and  Jan Van Eyck