by Lois Tverberg
Blessed be the LORD, the God of Israel, from everlasting even to everlasting. And let all the people say, "Amen." Psalms 106:48
It is interesting to note that the most widely known word on all the earth, across the most languages, is the word "Amen," a Hebrew word. Jews, Christians and Muslims all use this word in prayer, and it generally moves unchanged from language to language. Even in the Greek of the New Testament, the word was written literally as "amen" rather than a Greek translation being used.
The word "amen" is related to the Hebrew words emunah (faith, belief, trust) and emet (truth). It means something like, "This I affirm," or "Let it be so." It was used throughout the Old Testament as a response, as when blessings or curses were read as part of a covenant, and all the people said "Amen." When psalms were sung, the people would respond, "Amen." The leader didn't say it – it was a way of the people to proclaim their agreement with the liturgy they heard. (See today's verse.) In Jewish prayer today, this is still done. After the leader recites the prayer, the audience follows with "Amen," in effect saying, "I affirm this prayer also, let it be so for me too."
Some scholars believe that there has been confusion in our understanding of Jesus' use of "amen." He often began speaking with an "amen," which has been thought to be a way to emphasize his own words. In the King James, it is translated "verily" and modern translations remove it altogether, and substitute "I tell you the truth."
Robert Lindsay, a scholar of the first century Jewish context of Jesus, believes that Jesus actually used "amen" as it was used by the rest of his society – as a response of affirmation of something else that precedes his words. For instance, when the centurion tells him that by just saying the word, Jesus can heal from afar, Jesus says, "Amen! I tell you, I have not seen such great faith in Israel." (Matthew 8:10) The beginning "amen" is an exclamation of enthusiasm in reaction to hearing the man's statement of faith. Jesus responded to the people and situations around him with a loud "amen" sometimes, and didn't just underline his own teachings with that word.
"Amen" isn't just the natural end of a prayer, it is a way of saying "I most certainly agree!" Whether we say it at the end of our own prayers, or use it to agree with the prayer of another, may all our prayers reflect this wholehearted agreement with the words we have prayed, and our response of faith to God's answers.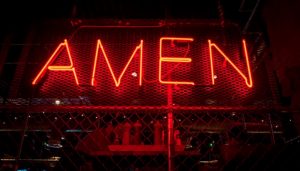 Photo by Steve Harvey on Unsplash