by Lois Tverberg
"Bless the LORD, O my soul, and all that is within me, bless His holy name. Bless the LORD, O my soul, and forget none of His benefits!" Psalm 103:1-2
From Jesus' day until the present, the Jewish people have had a tradition of saying numerous short prayers throughout the day called "blessings." The idea is not to bless objects and people, in the sense of conferring holiness on them, but to bless God, with the understanding that we are focusing on him as the source of all blessing. The word for bless, barak, also means to kneel, suggesting that when we bless God, we mentally bow on our knees to worship him. Even Jesus prayed these prayers of blessing, following the customs of his day.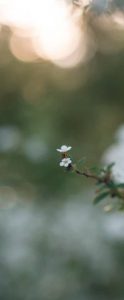 In the most ordinary things they found ways of praising God. When the first flowers were seen on the trees in the spring, they said, "Blessed is he who did not omit anything from the world, and created within it good creations and good trees for people to enjoy!" When they heard thunder they also blessed God by saying, "Blessed is he whose strength and power fill the world!" This pervasive act of prayer kept God's presence and love continually on their minds.
A blessing is very close to a prayer of thanks, but it actually is not, and in some ways it is better. For instance, when we see a rainbow, we can praise and bless the Lord for his creativity, and the beauty he designs into creation. But to thank him for it implies that God gave it to us as a gift, or that our approval is required. Thankfulness requires God to have personally done something for us, but blessing is simply a prayer that glorifies him and reminds us of his supremacy in all things.
In my own experience, I have found that the practice of these prayers of blessing changes a person's entire inner attitude. Continually praising God for his good gifts reminds us that the world is saturated with God's presence and that we are under his constant care.
Photo by Aaron Burden on Unsplash