by Lois Tverberg
Your neck is like the tower of David, built with rows of stones on which are hung a thousand shields, all the round shields of the mighty men. – Song of Solomon 4:4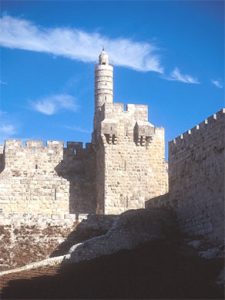 When we were staying outside the Old City of Jerusalem, we frequently went past the Tower (or Citadel) of David, a tower (migdal) that was built by Herod and rebuilt by the Crusaders — one of the few things still in existence from the time of Jesus. It was named the Tower of David because it was thought to stand on the site where an earlier tower, built by King David, once stood.
Towers were built free-standing or along the walls of cities for defense, to allow watchmen to see hostile forces from a distance, and to shoot arrows and other weapons from a high vantage point. Often the outside of a tower would be decorated with the shields of the army so that approaching enemies could see the size of the defense while they were still far off.
A tower was important and necessary to protect a city from invaders. God himself is likened to a tower – "For you have been my refuge, a strong tower against the foe" (Ps 61:3). Towers were also used to guard fields of crops from thieves as well.
This helps us understand several places in Song of Solomon where aspects of a woman are likened to towers. In today's passage, her neck is like "the tower of David" and her nose is like "the tower of Damascus" in Song of Solomon 7:7. In our culture that focuses so much on physical appearance, we assume that this phrase means that having a long neck and long nose was a sign of beauty.
In fact, it has an entirely different picture behind it that doesn't focus on physical beauty but on character and how the woman carries herself. It is a picture of a beautiful, pure young woman who is self-assured and confident enough to rebuff unseemly advances of men wanting her physically. She walks with her neck straight and head held high because she knows she is a prize. To a young man, the many gold bangles on her elaborate necklace seem like so many shields of a defending force against him. The portrait a woman as a tower is not just of longness or tallness, it is a picture of a well-defended city whose forces keep out all who try to enter without permission.
Women today want to emulate many traits from biblical women. They see the bravery of Esther, the good sense of Abigail, and the wisdom and industriousness of the Proverbs 31 woman. But modern women can also learn from this biblical model of beauty. Our fashion magazines glamorize an attitude of promiscuity, and our teenagers respond by baring as much as possible. We could learn much from the gorgeous woman of Song of Solomon, who has so much self-respect and confidence in her own worth that she can carry herself as the prize that she truly is.
---
My reference for this essay is Hebrew Thought Compared with Greek, by Thorleif Boman, (Norton, New York, 1960) p. 77-81.