Did you know that the gifts of gold, frankincense and myrrh to Jesus at his birth have multiple precedents in the Bible that Jesus read? Consider this story from the life of Solomon:
When the queen of Sheba heard of Solomon's fame, she came to Jerusalem to test him with hard questions. Arriving with a very great caravan — with camels carrying spices, large quantities of gold, and precious stones — she came to Solomon and talked with him about all she had on her mind. Solomon answered all her questions; nothing was too hard for him to explain to her. … Then she gave the king 120 talents of gold, large quantities of spices, and precious stones. There had never been such spices as those the queen of Sheba gave to King Solomon. (2 Chron. 9:1-4, 9)
Here too we find these three unusual gifts. It also might seem strange that foreign royalty would come to give gifts to a king who was already rich. But when a powerful king arose in a country, other countries wanted to form alliances and show friendliness toward that nation. Solomon controlled more territory than any other Israelite king, so this was a report of royalty from very far away coming to pay tribute to him.
This picture of a king so great that other kings would come to pay homage is also used to describe the coming Messiah. The messiah was the promised son of David, who would have a great kingdom without end. Not only would he be king over Israel, he will be king over the whole world! Psalm 72 looks ahead to when that will happen:
Endow the king with your justice, O God, the royal son with your righteousness. …The kings of Tarshish and of distant shores will bring tribute to him; the kings of Sheba and Seba will present him gifts. All kings will bow down to him and all nations will serve him. For he will deliver the needy who cry out, the afflicted who have no one to help.

Long may he live! May gold from Sheba be given him. May people ever pray for him and bless him all day long. May his name endure forever; may it continue as long as the sun. All nations will be blessed through him, and they will call him blessed. (Psalm 72:1, 7-12, 15, 17)
Interestingly, we see the same scene in this Psalm as happened to Solomon. Other kings would come to bow down to this great king, to bring tribute and present him with gifts, including gold from Sheba.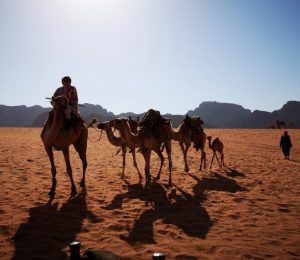 Sheba is at the southern end of the Arabian peninsula, where Yemen is today, about 1800 miles from Israel. Sheba was known in ancient times as possessing great wealth: gold, jewels and spices. Spices don't seem very precious to us, but in ancient times, some spices and aromatic oils were worth more than their weight in diamonds, because of their rarity and use as perfumes, incense and medicine.
There is yet another messianic prophecy in Isaiah 60 about the restoration of Zion that describes a similar scene. It says,
Arise, shine, for your light has come, and the glory of the LORD rises upon you. See, darkness covers the earth and thick darkness is over the peoples, but the LORD rises upon you and his glory appears over you. Nations will come to your light, and kings to the brightness of your dawn. … The wealth on the seas will be brought to you, to you the riches of the nations will come. Herds of camels will cover your land, young camels of Midian and Ephah. And all from Sheba will come, bearing gold and frankincense and proclaiming the praise of the LORD. (Is 60:1-4, 6)
Here again royalty from Sheba comes, bringing gold and frankincense as gifts to Jerusalem.
This recurring image of kings coming with gifts of fabulous wealth sheds light on the significance of the story of the wise men in Matthew 2:
After Jesus was born in Bethlehem in Judea, during the time of King Herod, Magi from the east came to Jerusalem and asked, "Where is the one who has been born king of the Jews? We saw his star in the east and have come to worship him." When King Herod heard this he was disturbed, and all Jerusalem with him. When he had called together all the people's chief priests and teachers of the law, he asked them where the Christ was to be born. "In Bethlehem in Judea," they replied, "for this is what the prophet has written: "'But you, Bethlehem, in the land of Judah, are by no means least among the rulers of Judah; for out of you will come a ruler who will be the shepherd of my people Israel.'" … On coming to the house, they saw the child with his mother Mary, and they bowed down and worshiped him. Then they opened their treasures and presented him with gifts of gold and of frankincense and of myrrh. (Matt. 2:1-6, 11) 
The wise men, probably ambassadors from the courts of other countries, wanted to see the messianic king who had been born in Israel, and to pay him homage. We can see why Herod wanted to destroy him–this king would become king over the whole world!
Only Jesus would do it a different way than Herod would. He would humble himself and die to redeem his people from their sins. As the message would go out to the world, people from all nations would repent and enter his kingdom. Gradually, his kingdom would expand, like a mustard seed, until every nation on earth would be blessed through him!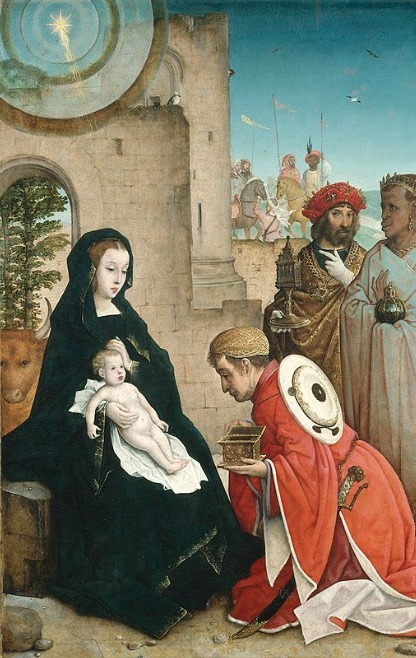 ~~~~
Photos: Leone Venter on Unsplash, John Romano D'Orazio [CC BY-SA 4.0], Juan de Flandes [Public domain]