by Lois Tverberg
Jeroboam thought to himself, "The kingdom will now likely revert to the house of David. If these people go up to offer sacrifices at the temple of the LORD in Jerusalem, they will again give their allegiance to their lord, Rehoboam king of Judah. After seeking advice, the king made two golden calves. He said to the people, "It is too much for you to go up to Jerusalem. Here are your gods, O Israel, who brought you up out of Egypt." One he set up in Bethel, and the other in Dan. And this thing became a sin; the people went even as far as Dan to worship the one there.  – 1 Kings 12:26-30
When we went to the northern area of Israel, we visited Dan, a large city where much archaeology has been done. It is amazing that one thing that has been uncovered is an altar and Temple that were probably used for idol worship for thousands of years.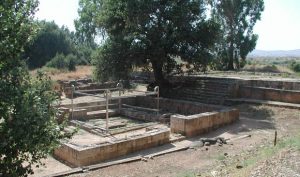 Throughout the biblical story, the city of Dan has been prone to idolatry. When the Danites first moved into the area, they coerced a idolatrous priest to set up his graven images there as their gods (Judges 18:30). Later, Jereboam built a shrine with two golden calves to persuade the people to worship there, rather than in Jerusalem (1 Kings 12:26-30). Later Ahab and Jezebel were there, who established Baal worship in much of the northern tribes.
To our modern ears, it is hard to imagine being tempted by idolatry. This is because we are strict monotheists – we simply don't believe any other gods exist besides God, so idolatry seems pointless. In the ancient Middle East, however, people believed that many small, territorial gods existed that controlled prosperity and fertility of the people, but did not make moral demands on them – only that they be worshipped to grant their favor. These small gods were not all powerful – they actually were subject to spiritual forces beyond themselves, so that a person could manipulate them by sorcery and incantations. A person who became prosperous through devious means was admired for his or her cleverness in coercing the gods to do his will.
In contrast, the real God, YHWH, rejected all sorcery and insisted on moral conduct, and that he is God over all. The Danites (and all of Israel, at first) were used to manipulating their gods to get their favors, rather than asking God what he wanted. The golden calves at Dan and in the Exodus were not idols to other gods, but God objected to them because the people were treating him, the Lord of the universe, like a small, territorial god that they could manipulate. The Danites ignored that he had set up his own house of worship in Jerusalem, and given instruction on how worship should be done. By setting up another altar and using idols, they were defying his express orders to do their own thing.
We can look at ourselves in this picture and ask ourselves if we treat God like the Lord of the universe, or use our prayers to get him to do our will. Do we ask what he wants done and then go do it? Do we hold our conduct up to what his word says? Or do we have our own agenda and use our prayers to ask God to get things done for us?