by Pastor Ed Visser
After three days they found him in the temple courts, sitting among the teachers, listening to them and asking them questions. Everyone who heard him was amazed at his understanding and his answers. When his parents saw him, they were astonished. His mother said to him, "Son, why have you treated us like this? Your father and I have been anxiously searching for you." "Why were you searching for me?" he asked. "Didn't you know I had to be in my Father's house?"
Luke 2:46-49
In my travels through Israel, we spent a little time in Jesus' neighborhood: both Nazareth and the nearby city of Sepphoris. Here we explored a bit about the "silent" period of Jesus' life, from ages 13-30.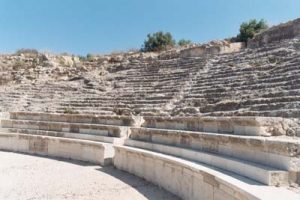 We get a few hints about Jesus during these years. We are told that he is the "carpenter's son," and that he lived in Nazareth with his parents and was obedient to them, growing in wisdom, stature, and in favor with God and men (Luke 2:51-52). And then we have this somewhat enigmatic scene in the temple courts when he was 12, talking about needing to be "in my father's house." What is that all about?
It might surprise you to learn that the word "house" never appears in this verse (in the Greek). Rather, the phrase reads "in the things of my father." Given the setting is in the temple (God's 'house'), most translations opt to go that direction. The King James opts instead for "about my father's business." Either version is an acceptable translation. The other question is: which father is he talking about? Almost all see God the Father as being referred to here; but some suggest that Jesus may be alluding to both of his 'fathers.' We know about the divine Father's 'business'; what about Jesus' human father?
Joseph is described as a tekton, which we find usually translated "carpenter." In our society, that's a bit deceptive, since such a person works almost exclusively with wood. But in Israel, there's not much wood for building; most everything is made of stone. So the 'business' that Joseph was in, and would have taught his son, was more like stone masonry. In nearby Sepphoris, construction was booming during Jesus' silent years, and likely father and son would hike the mile or two there to engage in their 'business'.
Joseph would also have served as Jesus' first teacher. He is called a tzaddik ("righteous man") in
Matt 1:19, a technical term which meant that he would have been educated, possibly even a sage. So when Jesus is wowing the sages in the Temple, partial credit must go to Joseph his father (the sage?). Could this be, at least in part, the "father's business" that Jesus is going about? Certainly there is more here; his heavenly Father's business would be his eventual life's work. But we shouldn't completely ignore the role Joseph played in Jesus' growth as a person, and even as a sage himself!