by Bruce Okkema
The LORD answered Moses, "Walk on ahead of the people. Take with you some of the elders of Israel and take in your hand the staff with which you struck the Nile, and go. I will stand there before you by the rock at Sinai. Strike the rock, and water will come out of it for the people to drink." So Moses did this in the sight of the elders of Israel. Exodus 17:5–6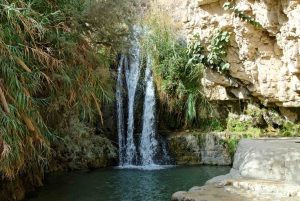 In this story we find the Israelites "grumbling" to Moses and Aaron about their present circumstances. The Hebrew meaning behind this translation conveys a much stronger picture, that of a riotous mob wanting to kill their leaders. I find myself quickly judging the Israelites, thinking that since they had just been brought out of the land of slavery, how could they be complaining already? After all, they had seen the mighty hand of God on the night of Passover, they had experienced the parting of the waters of the Red Sea, manna appeared with the dawn, quail fell from the sky, and they had benefited from many other miracles. How could they be so ungrateful as to be complaining about thirst?
Yes, they were wrong in "grumbling." Yet, if you have ever experienced the harshness of the desert in this part of the world, you know how vital it is to have drinking water there. A person can literally die within hours without it, so perhaps we would have been desperate too. Also, imagine poor Moses standing in a leadership position over more than six hundred thousand people without water! Can you relate to his grief as he cries out to the Lord, "What am I to do with these people? They are almost ready to stone me!"
As you read the Bible, try to put yourself into the story and experience it as if you were there. The people in these stories are members of our covenant family, so in that sense, we really were. Also, learn to turn your eyes to the Lord in each situation to see how he will redeem it. You will see a God with amazing patience who loves us, walks with us, and provides water even when we complain!