by Lois Tverberg
The LORD saw how great man's wickedness on the earth had become, and that every inclination of the thoughts of his heart was only evil all the time. The LORD was grieved that he had made man on the earth, and his heart was filled with pain. – Genesis 6:5-6
We think of the point at which sin enters the world as when Eve takes the first bite of the apple. Some of us quickly leap next to the Gospels to read God's answer to the problem. But it is interesting that if we keep reading we can get a lesson about sin and its consequences.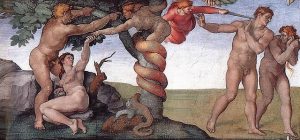 We see sin's effects even after Adam and Eve are sent out from the garden. Within a few years, one of their own sons commits the first murder – a drastic worsening from Adam and Eve's small act of rebellion of eating forbidden fruit. Cain is a man who doesn't care about his brother and is prone to jealousy. His anger entices him to murder, just as the serpent led Eve to sin. A few generations later, in Cain's line, we see a man even more vengeful than Cain – his descendant Lamech. Lamech said the following:
I have killed a man for wounding me, and a boy for striking me;
If Cain is avenged sevenfold, then Lamech seventy-sevenfold. Genesis 4:24
Not only was Lamech more violent than Cain, he was even proud of it! Finally, evil reached its peak a few generations later in the generation of the flood. The scriptures say that this was a people whose only thought was of evil all the time, and God was sorry he made them. He wiped them all out with a flood, but the first thing man did after the flood was to build the tower of Babel — it was clear that the flood hadn't washed the sin out of their hearts.
At this point, God began a much more long-term answer for sin in the heart of man. In the very next chapter, God chose one faithful man, Abram, and promised that through him he would make a people that would bless the whole world. Through him would come a nation that could be taught God's way to live, and even if they struggled, could be a light to the nations around them. And God could use this nation to bring his final answer to sin – Jesus.
Through this we can see the amazing power of sin that starts out small and quickly grows powerful and ugly. But we can hope in the fact that while God's answer also starts out small, it ultimately will triumph with redemption.
---
Photocred: www.heiligenlexikon.de/Fotos/Eva2.jpg