by Lois Tverberg
Now it came about after these things, that God tested Abraham, and said to him, "Abraham!" And he said, "Here I am." He said, "Take now your son, your only son, whom you love, Isaac, and go to the land of Moriah, and offer him there as a burnt offering on one of the mountains of which I will tell you. – Genesis 22:1-2
The story of the near-sacrifice of Isaac is referred to in Jewish tradition as the "Akedah," the binding of Isaac. It is one of the most difficult to understand in the scriptures. It is also rich with meaning, and becomes richer when we are aware of the Hebrew phrases behind it.
For instance, when Abraham answered God, "Here I am," the word, "hineni" meant much more than just an announcement of a person's location. It was what a child said to a parent or a servant his master, to show attentive submission. It was like saying, "At your service!" Abraham was fully open to God's requests.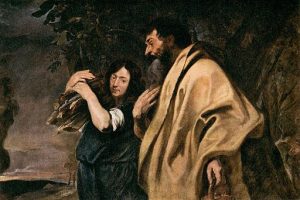 God's response, "Take now your son" also needs the Hebraic nuances to pick up on its mood. The phrase uses "na" after the verb, which is a gentle request, a plea. It is if God gently asked Abraham this enormous request, saying the word "please" along with it. He is asking Abraham if he would, not harshly ordering him to do it.
And, the words in Hebrew for "go to the land" lekh l'cha, are used exactly one other time in the Bible, as God's very first words to Abram. Then, God had tested Abram by asking him to leave his family, country and his heritage for a land God would show him. Here, God is repeating the test, but instead of asking Abraham to abandon all his past, now He asks him to abandon the future promise that God had in Isaac.
Amazingly, although Abraham showed great daring in bargaining with God to spare the lives of the people of Sodom, now he says nothing. Somehow he knows that God will come through on this test of all tests, even from the beginning.
---
Photocred: Web Gallery of Art