by Lois Tverberg
Pray, then, in this way: "Our Father who is in heaven, hallowed be Your name. Your kingdom come, your will be done, on earth as it is in heaven…" Matthew 6:9-10
Even though Jesus often talks about the kingdom, many of us struggle to understand what Jesus meant by "thy kingdom come." We read two different phrases in the gospels – "kingdom of heaven" and "kingdom of God." In Matthew, "kingdom of heaven" is used, while in Mark and Luke, "kingdom of God" is used. This is because Jews show respect for God by not pronouncing his name. Matthew is preserving the culturally-correct quote "kingdom of heaven" while Mark and Luke are explaining to Gentile audiences that "heaven" is a reference to God.
The primary understanding of the kingdom of heaven was God's reign over the lives of people who enthrone him as king. The rabbis knew that most of the world did not know God, but the scriptures said that one day, "The LORD will be king over all the earth; in that day the LORD will be the only one, and His name the only one" (Zechariah 14:9).
The question of Jesus' time was when and how God would establish this kingdom. It was thought that when the Messiah came, the Kingdom of God would arrive all at once with great glory. But Jesus disagrees:
Once, having been asked by the Pharisees when the kingdom of God would come, Jesus replied, "The kingdom of God does not come with your careful observation, nor will people say, 'Here it is,' or 'There it is,' because the kingdom of God is within you." Luke 17:20
Jesus meant that a person is brought into the kingdom of God when a person repents and decides to accept God as his King, and it is something that happens in a person's heart, not a political movement or visible display of God's power.
So what did Jesus mean by the phrase "your kingdom come"? He is talking about God's reign over our lives, not about a future display of God's power. He uses it in parallel with the next line in the text. The two phrases "your kingdom come" and "your will be done on earth" are synonymous. These phrases both mean, "May all nations of the earth enthrone you as king! May everyone on earth know you and do your will!"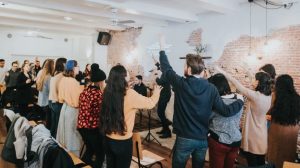 Photo by Sandro Gonzalez on Unsplash