Insights into Jesus of Nazareth

His Words, His Wisdom,
His World
Conference Seminar
Available as an 8-DVD set or mp3 CD (audio only). Order below.
© En-Gedi Resource Center, 2006
15 hours of in-depth presentations by leading scholars on Jesus' first-century context. Filmed at the Jerusalem Perspective 2006 Conference in Jerusalem, Israel, June 19-20, 2006. 
Presentations:

The Value of Translating Matthew, Mark and Luke to Hebrew
David Bivin, Editor of Jerusalem Perspective
A Hebraic Approach to the Resurrection of Jesus
Randall Buth, Director, Biblical Language Center
Is Jesus Superior to the Law?  -and-
Jesus's High Self-Awareness and the Christology of Paul
Dwight A. Pryor, President, Judaic-Christian Studies Center
Why Rabbinic Literature Is Pertinent to the Study of the Gospels  -and-
Jesus Among the Rabbis: Spiritual Life and Leadership
Brad Young, Professor, Oral Roberts University
The Mikvah and Ritual Immersion in Jesus' Day
The Recently Discovered Pool of Siloam (Audio online at link)
Ronney Reich, Archaeologist, Haifa University
The New Testament in the Light of the Dead Sea Scrolls
Hanan Eshel, Archaeologist, Bar Ilan University
Was Jesus Buried in the Garden Tomb? (DVD only)
Gabriel Barkay, Archaeologist, Bar Ilan University
Jeremiah's New Covenant and Jesus' Movement
Serge Ruzer, Professor, Hebrew University
Jesus, the Sin-Fearer
David Pileggi, Rector, Christ Church
Jesus' Teaching Style Illustrated by His Response to Martha's Anxiety
Lenore Mullican, Professor, Oral Roberts University
The Pastoral Relevance of Who Wrote the First Gospel -and-
The Importance of Bible Geography for Understanding Jesus
Halvor Ronning, Director, Home for Bible Translators
.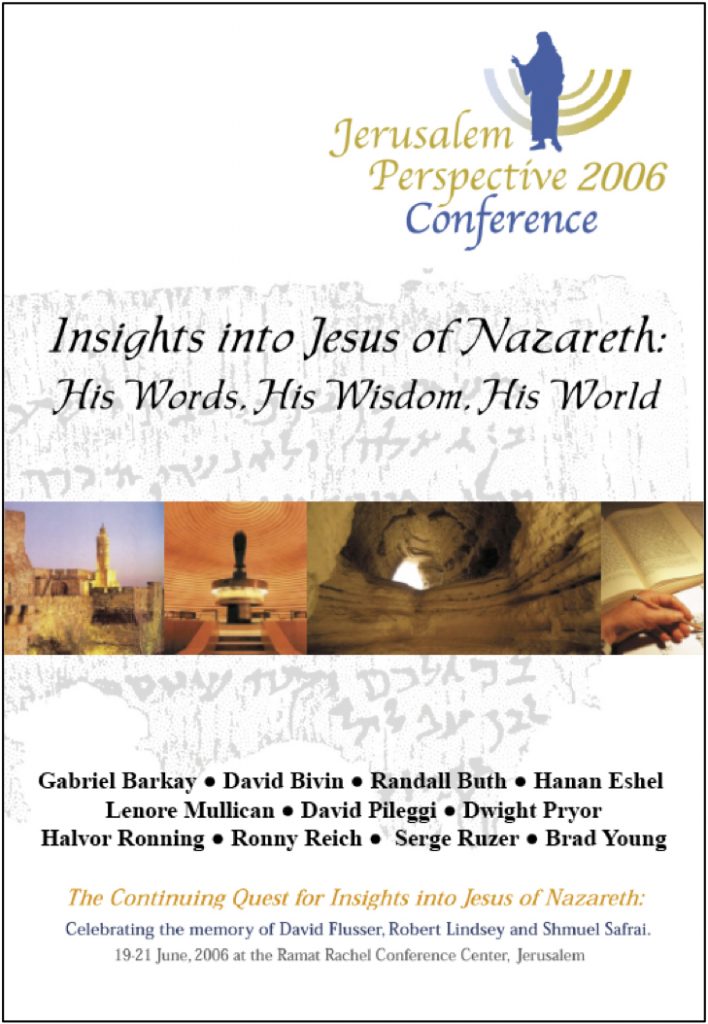 8-DVD Set: $59.99(In stock)
.
Also included on DVDs (not audio CD)
• A tribute to David Flusser by James Charlesworth
• A documentary about Robert Lindsey and David Flusser
• Baritone Horst Krueger performing songs of Jerusalem and conference music composed by Robert Lindsey.
© Produced by the En-Gedi Resource Center in cooperation with JerusalemPerspective.com. All rights reserved.