by Lois Tverberg
In all their affliction He was afflicted, and the angel of His presence saved them; in His love and in His mercy He redeemed them, and He lifted them and carried them all the days of old. – Isaiah 63:9
When we are are in distress, in our English, we use many vivid physical images to describe it, like feeling crushed, low, burdened, or weighed down with our troubles. We picture ourselves as if we are carrying a heavy object that is pushing down on us.
Interestingly, in Hebrew, a different picture is used for the same idea of affliction. The word for distress is tzar or tzarah, and it also means "narrow" or "tight." The picture is that of being hemmed in, squeezed, or trapped with no options. Often King David speaks about being pressed (tzarah) by his enemies. When God gives relief, rahav, the word literally means widening. For instance, in this translation of Psalm 4 it says:
When I call out, answer me, O God who vindicates me! Though I am hemmed in (tzarah), you will lead me into a wide, open place. [lit., you will widen, rahav me] Have mercy on me and respond to my prayer! (Ps. 4:1-2, NET)
There is an interesting verse that uses this image. In Isaiah 63:9, it says that when God's people were afflicted (tzar), he himself was afflicted (tzar). God wasn't just sitting back, relaxing comfortably in heaven while his people were in distress. When his people were squeezed, God was feeling squeezed too! God feels our distress and our worries, he doesn't just shake his finger at how little faith we have. He is always intimately near, caring for us in our troubles more than we can ever realize.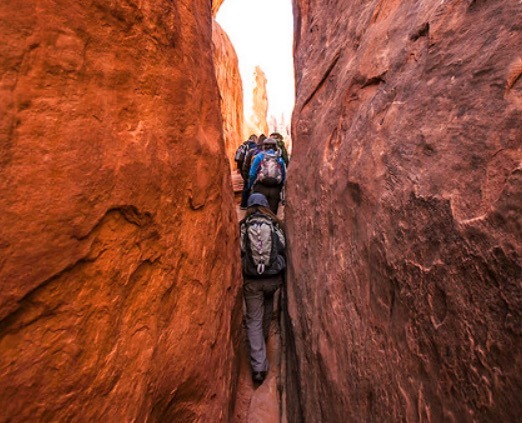 Photo: Archesnps